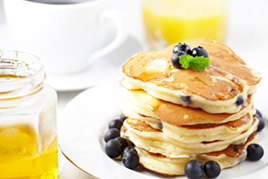 Ingredients:
2 cups Grist Mill soft white flour (or pastry flour)
1 tsp. salt
1¼ tsp. baking soda
¾ tsp. baking powder
2 eggs, unbeaten
2 cups cultured buttermilk
¼ cup melted butter
1 cup blueberries


Instructions:
Sift dry ingredients together. Add remaining ingredients and stir lightly to just moisten dry ingredients. Mixture will be thick and lumpy. Gently stir in blueberries. Drop by spoonfuls onto lightly greased griddle spreading batter with spoon. Turn cakes as soon as browned and cook other side until browned. Makes 5 or 6 servings.