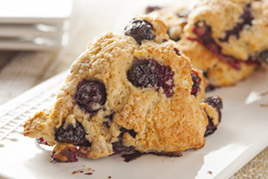 Ingredients:
1 cup all-purpose flour
1 cup Grist Mill pastry flour
1 tbsp. granulated sugar
1 tbsp. baking powder
½ tsp. baking soda
½ tsp. salt
¼ soft margarine
1 cup low fat buttermilk
1 cup blueberries
Instructions:
In a bowl, combine flour, sugar, baking powder, baking soda and salt. Mix in margarine until mixture resembles coarse crumbs.
Stir in blueberries; add buttermilk and mix lightly. Drop by spoonfuls into 10 mounds. Bake at 425° F oven for 12 to 15 minutes or until golden brown.