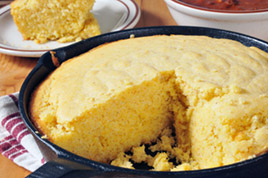 Ingredients:
1 cups Grist Mill corn meal
¾ cup all-purpose flour
1 tsp. salt
1 tbsp. baking powder
3 tbsp. oil
2 eggs


Instructions:
Preheat oven to 450°F. Put oil into 9-inch cast iron skillet (or glass baking dish). Allow oil to heat very hot, almost hot enough to smoke, while you mix ingredients. Sift together dry ingredients; drop in eggs and about a third of the milk. Mix and add another third of the milk and mix again. Add the remainder of the milk and mix until smooth. Pour into hot skillet or baking dish. Put into the oven and bake about 25 minutes or until golden brown.