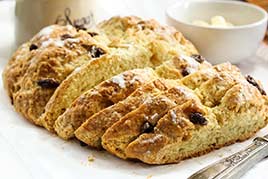 Ingredients:
¼ cup sugar
1 tbsp. salt
3 tbsp. baking powder
3 tbsp. baking soda
2 cups Grist Mill hard white flour
2 cups Grist Mill soft white flour
¼ cup butter
1–2 cups raisins
1 egg
1¾ cups buttermilk
Instructions:
In a large bowl stir together 4 cups of the flour, salt, baking powder, soda, and sugar until thoroughly blended. Cut in butter with a pastry blender or two knives until crumbly. I a separate bowl, beat egg, slightly and mix with buttermilk; stir into dry ingredients until blended. Turn out on a floured board and knead until smooth (2-3 minutes).
Divide dough in half and shape each half into a smooth, round loaf; place each loaf in a greased 8-inch cake or pie pan; press down until dough fills pans. With a razor blade or sharp, floured knife, cut crosses in tops of loaves, about ½ inch deep.
Heat oven to 375° F and bake loaves for 35-40 minutes or until nicely brown. Makes 2 loaves.