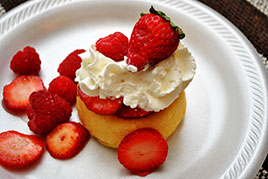 Ingredients:
2 cups Grist Mill soft white flour
2½ tsp. baking powder
¼ tsp. baking soda
½ tsp. salt
½ cold butter, cubed
1 egg
½ cup 2% milk
¼ cup honey
2½ cups fresh strawberries, hulled
whipped cream
1–2 tbsp. maple syrup
Instructions:
In a bowl, thoroughly mash ¾ cup strawberries; stir in syrup. Cut remaining strawberries into ¼-inch slices; add to crushed strawberries and toss to coat. Refrigerate, covered, 1 hour.
Meanwhile, preheat oven to 400°. In a large bowl, whisk flour, baking powder, salt and baking soda. Cut in butter until mixture resembles coarse crumbs. In a small bowl, whisk egg, milk and honey until blended; stir in flour mixture just until moistened.
Gently knead dough 8–10 times on a lightly floured surface. Pat or roll dough to ¾-inch thickness; cut with a floured 2½-inch biscuit cutter. Place 2 inches apart on parchment paper-lined baking sheets. Bake 12–15 minutes or until light brown. Remove to wire racks to cool slightly.
To server, split shortcakes in half. Fill with strawberry mixture and whipped cream. Top with additional whipped cream. Makes 6 servings.