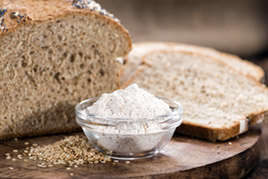 Ingredients:
2 envelopes yeast
2 cups warm water (105–115°F)
¼ cup non-fat dry milk
1 tbsp. salt
¼ cup molasses
2 tbsp. butter, soft
4 cups Grist Mill bread flour
2 cups Grist Mill pastry flour
Glaze:
½ egg white, beat with 2 tbsp. water and ¼ tsp. salt
Instructions:
In a large bowl, dissolve yeast in water. Stir in well: milk, salt, butter and molasses; butter does not need to melt. Work in flour 1 cup at a time to make a soft dough. Turn out onto a lightly floured smooth surface; knead until elastic, about 10 minutes. Place into buttered bowl; turn to grease top; cover; let rise in a warm, draft-free place (80–85°F) until double, about 1½ hours. Punch down; shape into 2 loaves. Place into buttered loaf pans. Cover; let rise until double, about 1 hour. Brush tops with glaze mixture. Bake in a preheated oven at 375°F for 50 minutes. Turn out on wire rack to cool. Makes 2 loaves.